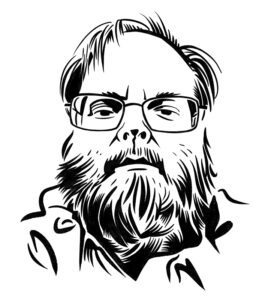 Seth Underwood is an autistic author living in the Washington, DC area and writes speculative science fiction, usually dealing with androids, the future and angels. He's also an old gamer, and has some videos posted on YouTube. He currently writes for Invisible Illness and data-driven fiction on Medium.
​
His current project is a series of stories featuring events involving the crisis from the melting of the ice caps because of global warming impacting the United States, and world.
He sets the Rosella Tolfree Installments in the U.S. when 40 years of Presidents are elected by the House of Representatives for the inability for any candidate to capture the needed majority in the Electoral College. These initial installments follow Special Agent Rosella Tolfree during her early days with the Investigative Services Branch (ISB) of the U.S. Ranger Marshals, a new paramilitary organization under the National Park Service.
Books
Joseph Street Digest Volume 1
The Angel Manuscripts- die Gefallenen – the Book of Zuriel, Part 1: A Gnostic Text of Fallen Angels of the First Testament 
Stories Published on the E-JSD on Substack
The Story of Thomas Finley- A Rosella Tolfree World Story by Seth Underwood
The Story of Cory Sheppard- A Rosella Tolfree World Story by Seth Underwood
The Story of Robin Browning- A Rosella Tolfree World Story by Seth Underwood
The Summoning of Captain Constitution by Seth Underwood, Comic Cover by Matthew Childers
How Covfefe Will Save the U.S. From Robot Domination
The Recovery of Kasumi, the Cat Girl- Maxwell's Oddities and Antiques Short Story Installment by Seth Underwood
The Audit of the Colony A.I., Fig, for Binney 4- A short story by Seth Underwood
Seth Underwood Contacts and Follows
​https://www.sethunderwoodstories.com
Amazon Author Page-  https://amazon.com/author/sethunderwood
Medium-  https://sethunderwood56.medium.com/
Twitter- https://twitter.com/SethUnderwood56
Facebook- https://www.facebook.com/seth.underwood.author
Instagram- seth.underwood.stories
YouTube- https://www.youtube.com/channel/UCb9WtoxHntE9tKvAr6Kzg
Goodreads– https://www.goodreads.com/author/show/17358961.Seth_Underwood